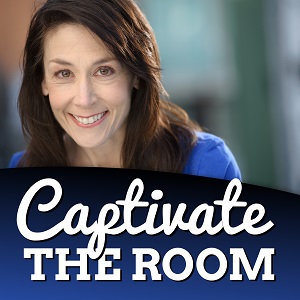 Premium
Welcome to the show!
Are you missing opportunities to confidently express your ideas in a way that makes people want to listen? 
How do you command the room when everyone around you is loud, fast and trying to stand out from the crowd?
Listen to today's podcast to learn about what commanding authority is, what it isn't, and how you can command authority with your voice. 
Commanding the room is not:
Pushing, shoving, holding on tight, loud, masked, or arrogant.
Think about C Suites you may know: they have mastered the ability to let people in and get them to listen without shoving it at people.
Ask yourself:
Are you commanding authority or controlling through fear?
Do you have the respect of your peers and audience?
What does it take?
Vocal energy - the right kind; the best version of your own personal, vocal energy.
Pushing vs. Pulling:
You can push but incorporate pull. Push repels. Pull cares.
Say what you want and need to say without judgment. Own the space. Stay in the now.  Don't let yourself be pulled into past or future worries.
Own and commit to what you're saying.
Even if you're not sure about an answer, own it and let your audience know you'll find out.
Knock it out of the park when people hear you speak.
Revealing Who You Are:
This is found in your words.
Which words do you choose? How do you use them?
Reveal how you feel: this takes courage and is about vocal variety, letting people in.
It is safer to be loud, pushy, arrogant and keep people at arm's length. This creates the cycle of come here/go away.
You can look at it from a technical standpoint and consider the 5 technical elements: Pause, Loud/Quite, Slow/Fast, Pitch, Play
OR
Consider if you are revealing to your audience how you feel.
Express the emotion with your voice: sadness, joy, anger, frustration, inspiration, passion, expectation, etc. with the use of vocal variety.
Take people on a journey. This is the ultimate nugget of commanding authority and is owning your space, voice, and story in a more vulnerable way.
How do you know you're commanding?
When you can be comfortable in the stillness, in being heard, in the pause, silence, and stillness with eyes on you.
When you can stop trying; when you can release the grip on the outcome and worry about what others think of you. Then you are able to own the space and command authority.
Commanding authority happens from the stage but can also happen in your cubicle, on sales calls, and in relationships. It's not about domination. It's about owning and revealing.
Ask yourself:
Which of those do you do?
Which of those do you not do?
Which elements can you start adding in to get to the next level?
Get out there and speak your truth; just do it beautifully.
 New Facebook group:  https://www.facebook.com/groups/368632873776318/
Website: http://www.captivatetheroom.com
Facebook: https://www.facebook.com/captivatetheroom
YouTube: https://www.youtube.com/user/theredsweaterlady
Instagram: https://www.instagram.com/captivatetheroom/
Free training! The Voice Formula: https://captivatetheroom.com/voice-formula/
Subscribe and Review on iTunes: https://podcasts.apple.com/us/podcast/captivate-the-room/id1091333779